Wings failure led to glider pilot Amy Barsby's death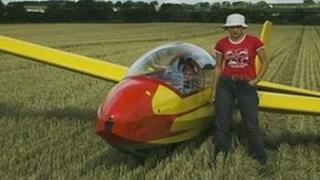 An experienced young pilot died instantly when her glider crashed to the ground moments after its wings had detached, an inquest has heard.
Amy Barsby, 25, died when the Foka 4 glider crashed at Bicester Airfield, Oxfordshire, on 8 August 2010.
A jury at Oxford Coroner's Court returned a verdict of accidental death.
The PhD student, originally from Longridge, Lancashire, suffered multiple injuries.
She was taking part in her second flight of the day as part of a university competition.
Her distraught boyfriend, Bruce Duncan, watched from the ground as the wings of her glider folded upwards and detached from the fuselage leaving it to nose-dive from a height of between 600ft (183m) and 1,000ft (305m).
Mr Duncan, a gliding instructor who had bought a house in Edinburgh with Miss Barsby, wept as he gave evidence at the inquest earlier.
Bolt incorrectly positioned
Both Miss Barsby's parents and the coroner urged changes to be made to similar gliders.
The mechanical failure happened because the glider had not been properly constructed.
The inquest heard that a bolt attaching the wings together had been incorrectly positioned and could not take the force of the take-off.
Miss Barsby, her boyfriend and another friend, who assembled the glider at the airfield earlier that day had unwittingly used a tool which was too powerful for the job when they connected the wings.
Using the speed brace meant it was not possible for them to feel if the bolt was in the right position.
There was also no way to check with the eye whether or not the lower bolt was connected, the hearing heard.
Miss Barsby, who had been gliding since she was 16, had previously watched the glider's owner put it together but this was the first time she had assembled that specific model herself.
Coroner Nicholas Gardiner said authorities needed to take action so that modifications were made to other gliders to avoid future deaths.
After the hearing, her father Steven Barsby said: "We take some comfort in knowing Amy's death was instantaneous and she didn't have any prolonged suffering.
"We've been much encouraged by what the coroner has said in his concluding remarks about the need to make sure the appropriate authorities do something to make sure that the glider of the type that have the wingfixing mechanism that Amy's glider had, has a means of full visual inspection.
"If that's achieved then Amy's death will have been the last as a result of this type of mechanical failure."
US fatal accident
He said there was a similar fatal accident in the US in 2007 and the British Gliding Association was made aware of it.
It issued a warning but "sadly that was just not good enough in terms of preventing Amy's death", Mr Barsby added.
"There's a chance that this accident could happen again tomorrow and we need to ensure that this doesn't happen."
He described his daughter as "a wonderful girl and a bit of an adrenaline junkie".
"She enjoyed the exhilaration of gliding and she would try lots of other sports too. She very diligent and she was very thorough in her approach to anything, very committed.
"In relation to safety she was always very much concerned to make sure that everything was safe."
Ms Barsby began gliding in July 2001 and had accumulated more than 226 flying hours in 531 flights.
She graduated from Edinburgh University and was studying at Queen's University, Belfast, where she had been carrying out research into possible causes of cancer.
Correction 25/11/11: This story has been updated to make clear the crash was caused by a mechanical failure and was not a result of the glider being assembled incorrectly.