Amanda Sorrell murder: Answers 'were mumbo jumbo'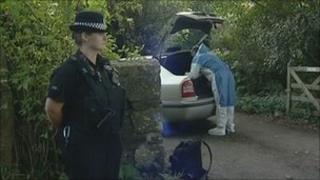 A Devon man accused of battering his lover to death in Cornwall said evidence he gave to police after her body was found was "mumbo jumbo".
The body of Amanda Sorrell, 55, was found at her cottage in Stoke Climsland in September 2010.
John O'Rourke told Truro Crown Court that he "cannot comprehend" what he said to police when they questioned him after her death.
Mr O'Rourke, 66, from Milton Abbot, near Tavistock in Devon, denies murder.
'Difficult question'
The court had previously heard that Mr O'Rourke, 66, who lived with his mentally ill and housebound wife, could not remember attacking Ms Sorrell.
After his arrest, Mr O'Rourke told officers that, although he did not know how she died, he did remember her being alive in the moments before he tried to kill himself using a kitchen knife on 27 September.
When asked in court why he did not call 999 to get help if she was still alive, he said he remembered her earlier sitting on the bed with a bleeding head wound.
The next thing he remembered was coming to again and finding she was already dead, the court heard.
Prosecutor Paul Dunkels QC, questioning him over his evidence to police, said there had been a telephone in the bedroom of Ms Sorrell's cottage.
He said: "You said you thought Amanda was still alive when you went to get the knife.
"But that would have raised a difficult question; why didn't you call 999 to get help for the woman you loved?"
Mr O'Rourke replied: "I cannot answer that. I cannot comprehend what I have said in that interview."
Later, referring to a transcript of his interview he was holding, he said: "This is all mumbo jumbo now.
"What I can recall now is waking up and seeing Amanda in that state on the bed, which was over in a flash. When I woke up she was dead."
The jury of seven men and five women heard that a post-mortem examination found 27 separate injury sites on the body of Ms Sorrell.
The trial continues.