Aston Villa's Barry Bannan given driving ban after crash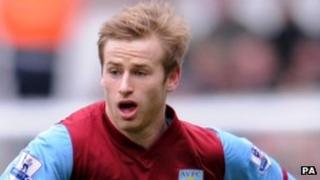 Aston Villa footballer Barry Bannan has been given an 18-month driving ban after admitting drinking and driving.
The midfielder crashed on the M1 near Watnall, Nottinghamshire, on 23 October then fled across fields before being arrested.
Bannan, 21, of Sutton Coldfield, West Midlands, was fined £4,500.
He also admitted failing to stop after an accident, driving without due care and attention and driving on a provisional licence.
The footballer, who has been capped nine times by Scotland, was found to have almost twice the legal limit of alcohol in his system.
'Clear headed'
Nottingham Magistrates' Court heard he had been driving for about an hour when he failed to make a bend and hit the central reservation in his Range Rover Sport at about 05:30 BST.
Bannan saw a motorway worker using a mobile phone.
Fearing he was calling the police, he panicked and made his way over fields to a taxi office in Bulwell where he was arrested.
He had been on a night out with friends in Leeds and got a taxi to his hotel at 03:00 BST.
When friends failed to return, the footballer decided to get changed and drive back to Birmingham as he feared he would miss a meeting with a football coach.
Bannan said he took the decision to drive as he felt "alert, in control and clear headed", the court heard.
The footballer, who has held a provisional licence for three years, was found to have 61 micrograms of alcohol per 100 millilitres of breath - the legal limit is 35.
Bannan apologised and admitted his actions were "foolish and immature".
He said he had never driven under the influence of alcohol before and "never would do again".
'No excuse'
Bannan was disqualified from driving for 18 months, but was told this would be reduced by four months and two weeks on completion of a drink-driving rehabilitation course.
In a statement released by the club after Friday's hearing, Bannan said: "I am very conscious of the fact that I have let down a lot of people by my actions, which I deeply regret.
"I have let down my family, my club, the supporters of Aston Villa, all of the people who have helped me to get to this stage in my football career and I have let down myself. I'm really sorry."
"Drink-driving is a very serious offence and there is no excuse for what I have done."
Villa manager Alex McLeish said the club had taken its own action against Bannan.
He added: "Barry has shown contrition, he's very ashamed of what's happened and his attitude is very much to get on now with his life and his career as a footballer."