Manx ferry hits link-span at Heysham harbour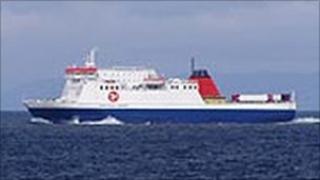 Hundreds of passengers have been left stranded after an Isle of Man ferry hit a harbour structure in Heysham, Lancashire, as it prepared to dock.
The Ben-my-Chree was berthing in strong winds when it collided with a link-span.
It left the vessel with a hole in its hull above the water line.
The Steam Packet Company say no passengers have been injured, but services are not expected to return to normal until Saturday.
The 14:15 GMT sailing from Heysham to Douglas has been cancelled as has the 19:00 GMT return sailing.
The Steam Packet Company say it hopes to resume sailing with effect from 01:45 GMT on Saturday.
Wedding date
Mark Edwards, from Plymouth, was waiting to get on board when he heard a "crunching sound and a bit of a bang".
He said: "It was already 45 minutes late and when I heard the bang I looked out of the window and you could see it had hit something.
"I am best man at my friends wedding tomorrow and I need to get to the island.
"We were asked by security to move away from the windows and moved over to near the check-in desks.
"As I had checked in they said I couldn't have a refund."
Chief Executive of the Isle of Man Steam Packet Mark Woodwood says it is doing everything it can to fix the damage as quickly as possible.
"The Ben-my-Chree was berthing when a sustained period of strong-wind pushed her into the mooring structure at Heysham.
"The collision has punctured the hull and left a small hole about four metres above the water-line.
"We have mobilised all the appropriate resources to get the situation fixed and we apologise for any inconvenience caused to our passengers."
The Steam Packet Company said all passengers will be offered transfers to other sailings.