Kate Prout murder: Human remains are missing wife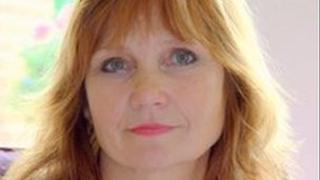 Human remains found in the search for Kate Prout have been formally identified as the murdered woman.
Husband Adrian Prout, who had denied killing her, was jailed for life in February 2010 for the 2007 murder.
He recently confessed and took police to Redhill Farm at Redmarley, in Gloucestershire, to show them where he had buried his wife's body.
Mrs Prout's brother Richard Wakefield said earlier the case had been "like a prison sentence" for the family.
A year ago, the 61-year-old made a plea to his sister's killer to reveal the location of her body.
Dental records
Speaking earlier on behalf of the family, Mr Wakefield said that if the remains were confirmed as his sister it would be a relief to have her back "so we can put Kate to rest at last".
Her remains were discovered on Thursday after a four-day search of the land.
Police confirmed Mrs Prout's identity through dental records.
Former teacher Mrs Prout disappeared the day after she asked her husband for a £800,000 divorce settlement.
The last time anyone heard from her was on 5 November 2007 when she called her bank, First Direct.
Adrian Prout, who owned a pipe-laying business and commercial pheasant shoot, had said he would need to sell £1.2m Redhill Farm to pay the settlement.
Instead, he offered his wife £600,000 plus maintenance.
Prout, 49, reported his wife missing on 10 November that year.
He was jailed for life for his 55-year-old wife's murder in February 2010 despite his denials.
Four years after Mrs Prout went missing, Prout is said to have told his fiancee Debbie Garlick that he strangled his wife following a row and buried her body.
It is thought she told police about the confession and he later admitted to officers he had killed his wife.
'No doubt'
Speaking of the moment they heard that Prout had finally confessed, Mr Wakefield said: "We were very shocked at first and we weren't quite certain whether it was the truth or not."
His wife Linda added: "We never thought we'd actually get to the end, where we would eventually have her back and she'd be found."
Mr Wakefield said he never had any doubt that Prout had killed his sister.
"I knew straight away after the first week that there was something drastically wrong, why Kate wasn't there.
"And there was no reason for Kate to go away and leave that farm.
"We've been like prisoners. It's been like a prison sentence for us, having this over our heads all the time.
"But now, that relief has come, so hopefully when we get Kate buried, we can all move on in our lives."
Mrs Wakefield said the search for Mrs Prout's remains had been "just as traumatic" as going through the trial.
She said: "Although we haven't had to go to court every day, the emotion you go through, all the feelings you go through, and the anxiety, waiting, wondering.
"It just tires you out and it's been really just as traumatic."
She said they were grateful to Ms Garlick for coming forward and passing information on to the police.