Ramsgate £1m church appeal taken to House of Lords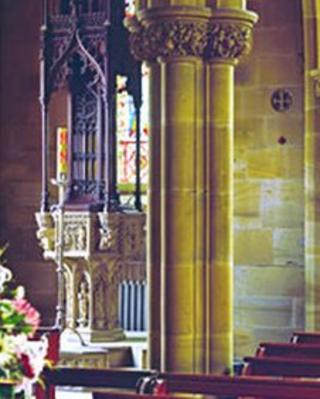 An appeal to restore a church designed and paid for by Augustus Pugin has been launched in the House of Lords.
The 19th Century Gothic architect worked on designs for the interiors of the Houses of Parliament while building St Augustine's Church in Ramsgate.
The Kent church has already been given £110,000 by the Heritage Lottery Fund.
"There was a real danger of it being closed and hopefully we have turned a corner now but there is such a long way to go," said Father Marcus Holden.
Pugin, hailed as one of the greatest British architects, designers and writers of the 19th Century, lived in Ramsgate at The Grange.
"He called St Augustine's his ideal church and had no restraints with patrons when he was building it," said priest Fr Holden.
St Augustine's appeal was launched last week in the River Room at the House of Lords.
Dry rot
"As we gathered and gave our presentations about the project we were surrounded by Pugin so it was very fitting that we were there," said Fr Holden.
He said the Friends of St Augustine's would focus on essential restoration work first.
"There are many things to do with the structure of the building," he added.
"There is a weakness in the tower, there is some dry rot, some of the windows are bowing and some of the walls are crumbling."
The Pugin Society has given guided tours of the building to several thousand visitors over the last year, since the Benedictine Monks who had occupied the adjacent Abbey left after 150 years.
The Order of Friars Minor moved into the Franciscan Friary in Chilworth, Surrey.