Soldier shot in Afghanistan makes Army football comeback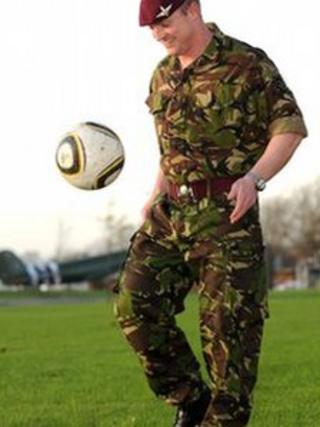 Less than a year ago Lance Corporal Tony Fitzpatrick feared his Army career was over after being shot four times in his legs during a tour of Afghanistan.
Surgeons warned that the Colchester-based Paratrooper's right limb might have to be amputated after the ambush in Helmand Province, in December.
Now, following five operations and extensive rehabilitation, L/Cpl Fitzpatrick has battled back to fitness.
After returning to front-line duties in June, he has completed a remarkable comeback by regaining his place in the Army football team.
L/Cpl Fitzpatrick, 30, described as a "tenacious" midfielder, said: "I really felt proud to get back on the pitch.
"I used to take my fitness for granted, but after being injured I know I can't do that. My injury has given me a new view of life and I focus on what I can do and get on with it."
L/Cpl Fitzpatrick, from Leicester, was shot in a gun battle on 30 December during a night operation in the Nahr-e-Saraj area.
"Our patrol base had been attacked from the same location several times and we went out to search the compounds," he said.
"All of a sudden we came under heavy fire and I felt three rounds pass through my right thigh, and then another one through my left thigh."
'Formidable spirit'
Within 20 hours, he had arrived at the Queen Elizabeth Hospital, in Birmingham.
He underwent five operations before spending a month at the Defence Medical Rehabilitation Centre, at Headley Court, in Surrey.
The married father-of-one said: "You're told the worst in hospital, and that was that my right leg might be amputated.
"I can remember lying in bed and thinking that was the end of my Army career and playing football.
"But I was determined to do my best and the treatment I had was brilliant, particularly at Headley Court.
"I worked really hard and the staff pushed me, both physically and psychologically."
After returning to 2nd Battalion The Parachute Regiment in June, he made a footballing comeback for the battalion football team.
He was then selected for the Infantry team, before being called up to train with the Army side.
Earlier this month, he played in the Army's 5-0 victory over Sussex FA in Aldershot.
L/Cpl Fitzpatrick, who is married to Kerry-Marie and has a four-year-old son, Joshua, said: "I know I've been lucky and the surgeons can't believe the recovery I've made.
"It's brilliant to play football again at a high level, but what means the most to me is that I'll be able to have a kick-around in the park with Joshua."
Major Richie Bell, manager of the Army football team, said: "When I heard about his injury I thought that was the end of his football career, but then he was back playing and I invited him to come down for training.
"He impressed so much that we put him straight into the starting eleven and he more than justified his selection."
Lieutenant Colonel Adam Dawson, Commanding Officer of 2 PARA, said: "L/Cpl Fitzpatrick's recovery is a prime example of the formidable spirit and character of the Paratrooper.
"The determination and grit he has shown to get over his injuries and back on the football field is a credit to himself, the Parachute Regiment and the Army."