New Dover port terminal gets approval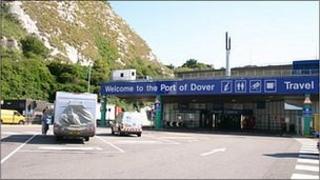 A second ferry terminal at Dover, which could double the port's capacity, has been approved by the government.
The £400m scheme will be built "when market conditions require", the Port of Dover said.
The decision comes a day after DFDS Seaways announced it was adding an extra passenger and freight ship to its Dover-Dunkerque service.
Bob Goldfield from Port of Dover said: "This is a great day for the port and its long term future."
On 15 November SeaFrance ferry services were halted between Dover and Calais, after a French court rejected a £5m bid by DFDS to take over the company.
Selling the port
The Conservative MP for Dover and Deal, Charlie Elphicke, warned hundreds of jobs could be lost in Dover if the company was not saved.
Mike Krayenbrink, director of port development, said: "Terminal 2 will become the second biggest ferry terminal in the UK after Dover's existing ferry terminal in the Eastern Docks."
Dover Harbour Board has submitted plans to the government to sell the port.
A local group - the Dover People's Port Trust - wants the port to be run by a community trust to plough profits back into the community.
Residents in the town have already voted in favour of a People's Port, which has the backing of MP Charlie Elphicke.