Thousands of workers in England set for pensions strike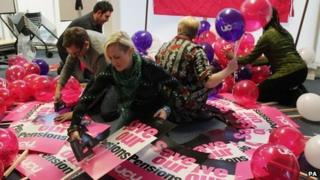 More than one million public sector workers in England, including teachers and civil servants, are set to strike on Wednesday over changes to pensions.
About 90% of the 22,000 state schools in England are likely to be closed, the government said.
The Trades Union Congress (TUC) said public sector workers had seen a "triple assault" on their pensions.
The government said the cost of public service pensions had risen by a third in a decade so changes were needed.
The impact of the strikes will be felt across the country, with some flights expected to be delayed, health and care services affected and many public buildings closed.
About 30 unions are taking part in the TUC day of action.
'Been burgled'
TUC general secretary Brendan Barber said: "On Wednesday we will see the biggest strike in a generation. I take no pleasure in that. It is always better to resolve disputes and disagreements through negotiation, but that route has failed."
He said under the proposals public sector workers "will pay a lot more and work longer to get a pension that fails to keep up with prices".
"It takes a lot to make so many staff angry enough to take the route of last resort and go on strike. What has united them is the government's triple assault on their pension," he said.
At least 80 rallies are being held across England with tens of thousands of people expected to attend.
Up to 10,000 people are expected to take part in a march and rally in Bristol, the city council said, while the TUC said about 5,000 people were set to attend a rally at the NIA in Birmingham.
Public service workers and their supporters will also march through many towns and cities, including Manchester, Exeter and Nottingham.
People in the North West have been encouraged to take part in One Noise at One by cheering, honking horns and blowing vuvuzelas at 13:00 GMT.
Bin collections
Parents around the country will be affected as thousands of schools close, including more than half of Cornwall's 274 schools, about 350 schools in Nottinghamshire and more than 160 in Gloucestershire.
Pauline Wood, head teacher at Grange Park Primary School in Sunderland, will be among those striking.
She said: "The money that we were promised was in our pension pot and was sufficient to be sustainable.
"How come that is now eroded and we feel like we've been burgled?"
Some NHS workers will be on strike, affecting health services. Mid-Yorkshire NHS Trust is among trusts to cancel non-urgent surgery.
With border staff among those planning to walk out, Heathrow operator BAA has warned of possible "gridlock" saying passengers faced potential 12-hour delays getting through immigration.
Gatwick Airport has said flight arrivals would be affected and warned of significant disruption at border points.
Commuters will also be affected, including in Merseyside where the Mersey Tunnels will close to the public at 23:45 GMT on Tuesday.
People in 88,000 vehicles which use the Mersey Tunnels each day will have to find an alternative way to cross the River Mersey. One tunnel will remain open for use by the emergency services.
Council services across England are also expected to be affected.
The Local Government Association (LGA) said: "Whilst many council offices will be closed on the day, local authorities are doing everything within their power to manage disruption and maintain essential "life and limb" services for vulnerable people."
'Rising costs'
An LGA spokeswoman said this includes mental health social workers using emergency rotas and keeping children's residential centres as fully staffed as possible.
She said services likely to be most affected were refuse collection, street cleaning, funeral services and leisure services, such as libraries.
Labour-controlled Liverpool City Council has said staff who strike will not lose the right to attendance-based bonuses and leader Joe Anderson told councillors not to have any meetings with officers who do not join the strike.
The government said it was trying to make the pension situation fairer for taxpayers and the plans represented a "good offer".
Danny Alexander, Chief Secretary to the Treasury, said: "We are all living much longer than we used to and that has driven up the cost of public service pensions by a third over the last decade, to £32 billion a year. That means we are now spending more on these pensions than we do on the police, prisons and the courts combined.
"We have to make sure the country can afford the best pensions for our hard working nurses, teachers and civil servants in the future and that means addressing these rising costs now."