Partner 'shocked' at coroner's A20 crash death verdict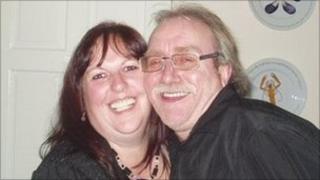 The partner of a Sussex man who died in a crash on the A20 in Kent said she was "shocked to the core" at the coroner's verdict on his death.
Sheila Bright's partner, Michael Baker, 47, from Littlehampton, died after the crash near Swanley on 24 July 2010.
The coroner returned a verdict of accidental death but a police investigation is still ongoing.
Police believe a group of young people were on the grass bank at the side of the London-bound A20 throwing stones.
Ms Bright said: "Because nobody could ID the children they couldn't give unlawful killing because all he [the coroner] could give was accidental death.
"My family liaison officer was sat next to me and Mike's children were the other side of me and I just looked at the family liaison officer and I was just absolutely shocked to the core."
The collision involved an articulated lorry and a car recovery pick-up truck, in which Mr Baker was a passenger.
Police said as the lorry drove towards London past the group of young people, the driver, realising something had hit the windscreen, cab and side of the vehicle, braked and pulled over to the side of the road.
While the lorry was stationary, the recovery truck collided with it.
Four children, aged 10 to 15, were questioned on suspicion of manslaughter but Kent Police said in November they would not face prosecution.