Striking staff in Northampton pensions march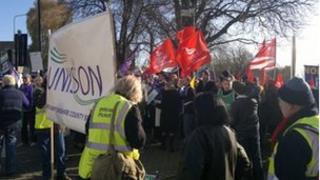 More than a thousand people have taken part in a march through Northampton town centre during a day of action across the UK.
Public sector workers including teachers, social workers and police support staff marched in protest at government plans to change public sector pension arrangements.
The strikers marched from Beckets Park to the Market Square.
Of the county's 320 schools 223 were shut or partly shut due to the strike.
Unions object to government plans to make their members pay more and work longer to earn their pensions.
The government says the cost of funding public sector pensions is "unsustainable" as people are living longer.
Secretary of State for Education Michael Gove said the strike would not be successful, while Prime Minister David Cameron has described it as a "damp squib".
'Tough decision'
Many of those striking in Northampton had been on picket lines through the morning.
Robert Slough, who is a family support worker, said it was a difficult decision to strike because he was losing wages but said he felt obliged to take action.
He said: "It is a tough decision, I lost a bit of salary today.
"I don't want to work longer, pay in more to get less at the end of it.
"Tax the people who have got more money, not the lower paid."
Some of the strikers were met with criticism from passing members of the public.
Dave Prentis, the Unison union's general secretary, said: "A bad situation will only be made worse by imposing a £3.6bn tax on public sector pensions, by holding down public sector pay and by throwing hundreds of thousands of public service workers on to the dole."