Leicestershire owners warned over rise in missing dogs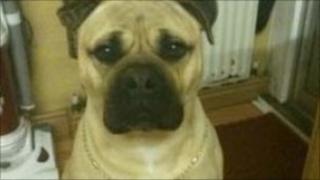 An animal charity is urging owners to get their dogs microchipped after seeing a marked increase in the number of dogs lost or stolen.
DogLost, which helps search for missing pets, said it had dealt with double the number of cases in 2011 than in 2010.
Elaine Fisher, the charity's Leicestershire co-ordinator, said she had been much busier since September.
DogLost urged owners to get their pets microchipped, the biggest single way animals are successfully traced.
"A lot of the cases I have been dealing with are dogs which disappear under suspicious circumstances," said Ms Fisher.
"I think perhaps many of them are stolen to order as it could be seen, by some people, as a way to make money.
"But people steal dogs and then realise they have been spayed, are elderly or not very well and have no value so will dump them," she said.
Working breeds
Ms Fisher added she believed there was more of a tendency for people to take in dogs they had come across, instead of trying to find their owners.
"At the moment there is a fawn Mastiff dog missing who ran off in Elmthorpe on bonfire night. Murphy was spooked by the fireworks but there have been no sightings of him since.
"How nobody has seen a dog as big as this makes you think someone has taken him in," she said.
The charity says half of all dogs who go missing "under suspicious circumstances" are working breeds, such as cocker spaniels.
DogLost believes this is because of a rise in popularity of field sports and the fact many working dogs live outside and are easier to target.
Ms Fisher is currently trying to find two cocker spaniels who it is believed were taken from a garden in Narborough on 8 November.
Tissie and Holly were kept in a kennel in the garden and had no way of getting out, according to their owner. Both dogs are elderly and one is almost blind so they hold very little monetary value.
The founder of DogLost, Jayne Hayes, advised owners to keep their dogs in sight.
"Make sure your dog is safe and secure," she said. "Don't leave them outside a shop. You wouldn't leave your handbag tied up outside, would you?"
According to the charity's national figures, in 2010 between 12 and 15 dogs a day were reported missing or stolen to them. In 2011, the figure has risen to between 30 and 40.