Arrests by M6 cable theft police in Walsall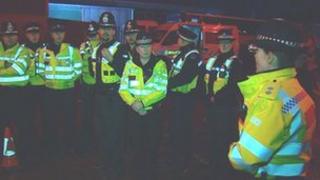 Five men have been questioned over suspicious activity near some overhead gantry cables on the M6 in Walsall.
Motorway police officers tracked two cars after they came to their attention at about 22:50 GMT on Wednesday.
Five men from Romania, aged between 19 and 57, were detained early on Thursday. Bolt-cutting equipment and other tools have been recovered.
The five men were arrested on suspicion of going equipped to steal, police said.
Police in the West Midlands have been cracking down on metal theft in the run-up to Christmas.
In one initiative on Thursday, police looking out for stolen metal were in Coventry, pulling in drivers on their way to a scrapyard.