Humber Bridge tolls reduction welcomed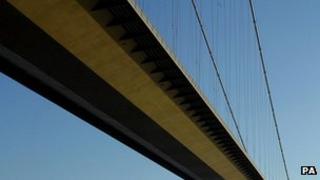 The Transport Secretary has welcomed the decision to cut toll charges on the Humber Bridge by half.
The announcement to write-off £150m of the bridge debt was made in the Chancellor's Autumn Statement.
From next year, toll charges on the Humber Bridge will be reduced from £3 to £1.50 each way for cars.
Transport Secretary Justine Greening said: "The Humber Bridge is crucial to the economy of the local area and the UK more widely and so I am delighted the announcement will allow the toll on the bridge to be reduced by half - ensuring transport remains affordable for travellers and businesses."
The move has also been welcomed by MPs from all sides, who have long argued that the high cost of tolls on the bridge have been a barrier to economic growth in the Humber region.
Debt write-off
The Humber Bridge opened in 1981 and toll costs have risen to the highest level in the UK in order to pay off the spiralling interest payments, which have increased over the past 30 years.
The current debt stands at £332m.
The debt write-off was included in the government's £30bn national infrastructure plan, much of which will be funded by private pension funds.
After 30 years of rising tolls, there is relief at last for thousands of motorists who've paid a high price for crossing the Humber.