Cider firms enjoy bumper apple crop after cold winter and mild spring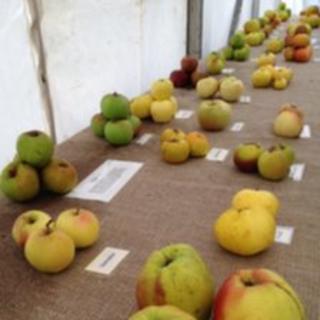 Many cider producers in England have said they have had their biggest ever apple crop following a very cold winter and warm spring.
Herefordshire firms have done especially well with both Bulmers and Westons Cider reporting bumper crops.
Nigel Kitney is chair of the research-based Horticultural Development Company.
He said: "Yields are up across the country and the very cold winter laid the foundations for a vintage year."
'Coiled spring'
Mr Kitney, who runs Old Grove Farm in Herefordshire, said apple trees reacted well to the cold weather earlier in the year.
"In a mild winter the trees fritter the goodness away but when it's cold they store it all up like a coiled spring.
"When we had that wonderful April, they were in good condition for flowering and that coiled spring exploded ready for a tremendous season."
Chris Fairs from Bulmers said: "We were worried about the early frost and thought crops would be down by as much as 20% earlier in the year; the warning signs suggested there was a chance of serious damage.
"In the end there was a huge amount of blossom everywhere and those of our orchards that weren't affected had record numbers of apples on the trees."
Early harvest
He said Bulmers' apple crop was up from 105,000 to 117,000 tonnes, while Westons harvested 17,500 tonnes compared to 14,500 tonnes last year.
Westons' trade marketing manager Helen McIlveen said: "It's the biggest harvest we have ever had, it's been top quality with high levels of sugar."
However Mr Kitney stressed that there were some exceptions to the rule and the May frost affected many smaller orchards.
Diane Phillips runs Pips Cider and has a five-acre orchard in Herefordshire.
She said: "Where would normally have had 5.6 tonnes, we've had only just over a tonne.
"We're lucky we had so much cider left over from last year: this year's harvest won't affect our sales."
Mark Henderson from the Kent Cider Company said 2011 had been a good year but not necessarily a bumper one.
"The apples have been smaller but we've had the same tonnage this year.
"However we have finished harvesting three weeks earlier than usual and that is because of the cold winter and very hot spring."
Mr Kitney said although it had been a record year for many firms, 2011 could have been even more dramatic.
He said: "It's nothing like it could have been, it really could have been even bigger if the summer had not been as dry.
"It would have been interesting to see how the bigger firms would have coped had we seen an even bigger crop."