Government's loan scheme to businesses in steep decline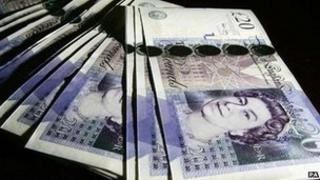 Much of the chancellor's Autumn Statement was focused on making sure businesses can get the finance they need to survive and grow.
But although there were some new funds unveiled, there was a feeling of déjà vu for many companies.
Both this and the last government have been trying to get the banks lending to businesses again ever since the credit crunch hit in 2008.
One existing initiative which was supposed to do that was the Enterprise Finance Guarantee (EFG).
Steep decline
Under EFG, the government underwrites 75% of a loan. The idea is it reduces the risks to the banks, and encourages them to lend.
And there undoubtedly have been businesses which have benefited from it. More than 14,000 have got loans since it started in 2009.
But the amount of money that has been handed to businesses through the scheme has declined steeply.
When Labour left office, around 500 loans per month were being paid out. That's now come down to fewer than 300 a month: a fall of 40%.
That decline has been even bigger in the North East, where the number of loans has more than halved.
In the last three months of Labour's term in office, 70 EFG loans were handed out to businesses in the region. They were worth £6.8m.
That had declined to 29 loans handed out between July and September this year, worth £2.4m. That's the steepest fall in any English region.
Drawn a blank
One firm that seems to have fallen foul of that decline is Millennium Hardwoods in County Durham.
Owner Terry Jacques has invested thousands in new equipment to become the first in Britain to make a type of wooden flooring that currently comes from China.
Now, though, he needs more money so he can build up production to win big customers. That will also create more jobs.
He thought the Enterprise Finance Guarantee scheme would be ideal.
But after eight months of trying, and conversations with several banks, so far he has drawn a blank.
He said: "All of the banks are keen to talk to us about the Enterprise Finance Guarantee Scheme and no-one has said no yet, but they haven't said yes either - and at the moment we are stuck between a rock and a hard place."
Perhaps though it's not surprising that the scheme is less generous than it was.
Labour put £1.3bn into the scheme between January 2009 and April 2010.
But in the first year of the coalition government, that came down to £700m - and this year it's down to £600m.
Banks failing
George Osborne has tried other ways of getting banks lending to businesses.
Project Merlin was an agreement designed to encourage billions of pounds of loans. But the banks failed to meet the loan targets contained in the agreement.
And so this week, the Chancellor announced a two-year £20bn National Loan Guarantee Scheme - designed again to make more finance available. Another £1bn will go into a fund for medium-sized businesses.
That guarantee scheme - credit easing as it's known - will underwrite loans and the Chancellor hopes it could see interest on them drop by a percentage point.
It certainly got the support of Conservative MPs in the North East, including Hexham's Guy Opperman.
Mr Opperman said: "This is a strong package of growth measures which will boost the North East economy.
"The chancellor is clear things are tough and I think the government is right to focus on using every resource at their disposal to build growth, without putting our economy at risk with more debt and more borrowing.
"Making it easier for small businesses to lend is something I often hear and the chancellor's steps in this area will be welcome."
But Terry Jacques for one has lost faith in the government's promises. He says that if Millennium Hardwoods cannot find the finance by early in the New Year, an opportunity for growth and extra jobs could be missed.
He said: "It sounds great from the government but we have heard it all in the past and it's just not happening. I have been in business for 32 years and I am more concerned now than I have ever been.
"We just cannot get the finance we require to do the work we are trying to do."
Business failures
That concern is echoed by the North East Chamber of Commerce.
Its chief executive James Ramsbotham said: "We need a lot more done to get banks lending to small and medium-sized businesses.
"There are so many businesses that are not even bothering to apply for finance because they know how difficult it is.
"From previous recessions, we know that most business failures actually happen during the upturn, not the downturn.
"When businesses start to grow again, that's when they need the cash, so firms have got to be able to get hold of that money now so that they can expand and help get us out of the situation we are in."
We'll have to wait and see if George Osborne's new plans can achieve that.
There is more danger ahead though. Events in Europe could yet produce another credit crunch.
Banks have been told to build up their reserves in an attempt to guard against a financial collapse in the Eurozone.
But some are already warning that if banks do that, they won't be able to lend as much.
There don't seem to be any easy solutions in the current economic climate.