The day I became a debating point in the Commons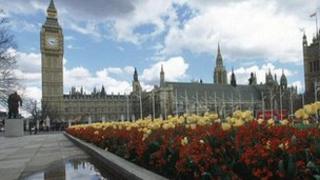 I don't think my wife Angela will be quite so ready to agree next time I offer a leisurely drive up through the Yorkshire Dales on my day off (and a night at a nice B&B) so I can be in place in time to film a story the following morning.
She finished up being 'volunteered' as my unofficial camera assistant as I picked up part of the story on the way.
As if that was not enough, a year later it led to us both being mentioned in a House of Commons debate.
That happened this week as a stream of MPs from across Yorkshire, Lincolnshire and the north Midlands queued up to support a call for the BBC to reconsider its proposals for reducing the budgets for regional television and local radio.
Public service
It was a real cross-party affair as the debate itself had been called by the veteran Labour MP for Great Grimsby, Austin Mitchell.
He must have the best credentials in Parliament as a champion of regional television.
He is still fondly remembered as a member of the on-screen team for Yorkshire Television's Calendar programme when it launched in the 70's.
From the Commons' terraces Sheffield Wednesday fan Angela Smith, Labour MP for Penistone and Stocksbridge, highlighted her fears of a watering down of local football coverage by BBC Radio Sheffield.
Martin Vickers, the Cleethorpes Conservative, was concerned at the potential loss of valuable public information services at times of school closures, snow and floods.
One man band
But it was the Ripon and Skipton Conservative, Julian Smith, who brought my wife and I into the debate by recalling how I filmed him after that day off in the Dales with Angela.
As a relatively new MP he was surprised to find me as reporter, camera operator and sound recordist.
He was even more surprised at Angela's patience helping me pick up my location shots the previous day.
He highlighted it as an example of how BBC regional journalists are already working flexibly and hard to get the best out of resources that are limited.
In fact, in common with many television journalists, about half the reports I broadcast these days are recorded with me operating as a lone 'video reporter'.
It is a development which has allowed BBC programmes like Look North and the Politics Show to cover far more than it did in the past.
I was out on the picket lines at dawn filming public service workers as they started their 24 hour strike.
Before you ask, I didn't bother inviting Angela.