North East cable thieves 'include teenagers'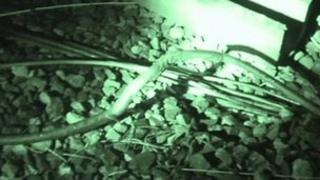 Children as young as 14 are stealing cable in the north-east of England, according to British Transport Police.
Last month, British Transport Police Deputy Chief Constable Paul Crowther told MPs the North East seemed to be the epicentre of railway metal thefts.
It has caused disruption to passengers around the region.
And it has led to a scheme called Operation Tornado being trialled in the North East in January to make it easier to trace the sellers of stolen metal.
Chief Inspector Derek O'Mara, from British Transport Police, told the BBC's Inside Out that he believed one of the reasons for the high level of thefts in the North East was the level of unemployment.
Identification scheme
He said: "We have got a wide range of people anywhere from the age of 14, right the way up to 50.
"People that are unemployed in the majority. Some of them are organised teams, gangs and some of them are individuals who have got drug habits."
Nexus director general Bernard Garner told the programme that since April there have been more than 20 incidents of copper stolen on the Tyne and Wear Metro, costing more than £300,000.
Operation Tornado is being set up to try to help tackle the problem.
It will involve the Association of Chief Police Officers, the Home Office, British Metals Recycling Association and Northumbria, Durham and Cleveland Police and will aim to tackle the problem of metal theft.
From January, anyone selling scrap metal to participating dealers in the North East will need to produce identification.
Watch more on this story on Inside Out, BBC One, Monday, 19:30 GMT.