Majorca Newcastle flight plane door threat case closed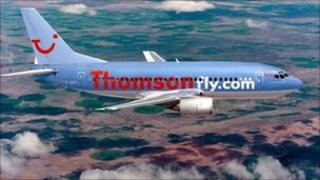 A holidaymaker arrested on suspicion of trying to open the door of a plane at 36,000ft will not face prosecution.
Sussex Police said the 22-year-old, from Ashington in Northumberland, whose bail was due to run out on Wednesday, has been told the case is now closed.
The Thomson Airways flight from Majorca to Newcastle had to be diverted to Gatwick Airport on 14 September. He was arrested at the West Sussex airport.
A police spokesman said there was insufficient evidence to proceed.
The flight carried on to Newcastle, arriving almost three hours later than planned at just before 05:00 BST.
Witnesses said cabin crew tried to restrain a man as he attempted to open the door.
He was said to have shouted: "It's okay, we are just on a simulator."
Thomson Airways said it would not have been possible for the passenger to open the aircraft door whilst the aircraft was in the air due to the pressure inside the cabin.