Stafford to Wolverhampton overhead line 'fell on train'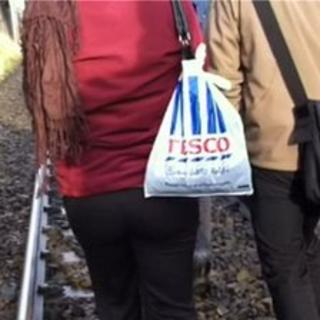 A rail passenger has described the moment an overhead cable fell down and struck the train she was travelling on.
Teresa Fuller was on a train between Penkridge and Wolverhampton when the overhead cable fell.
Passengers waited for about two hours before the train was evacuated and they were led along the tracks to waiting coaches by rail workers.
Network Rail is reporting delays of up to an hour in the area as engineers work to repair the fault.
'Large pink flash'
The line came down at just after 08:30 GMT.
She said: "We'd just gone through Penkridge when there was a large pink flash followed by a clattering sound which was the cable hitting the roof of the train.
"It was a bit scary. We spent about two hours on the train with no power, but they did keep us well informed and said the cable was wrapped around the top of the train so they had to evacuate."
A Network Rail spokesman said passengers may have to change trains at Stafford or Lichfield while the line is being repaired.
He added travellers are advised to check the National Rail Enquiries website before they leave for a rail journey.
Train operator London Midland said it will not be running any services between Birmingham and Liverpool until Wednesday morning.
In a statement on its website the company said until 21:00 GMT Cross Country will be running between Birmingham/Wolverhampton and Stafford and Virgin Trains will be running between Birmingham/Wolverhampton and Crewe.
After 21:00 GMT there will be road transport running between Wolverhampton and Stafford while repairs are carried out to the overhead power lines.
A limited London Midland service will run between Crewe and Liverpool for the rest of the evening.