More job cuts at the Express & Star and Shropshire Star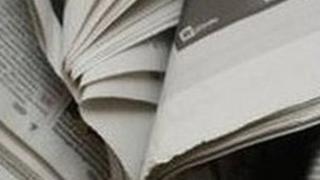 The publisher of the Express & Star and Shropshire Star newspapers has said up to 50 jobs could be cut across its titles.
Midlands News Association (MNA) said its sales had suffered as a result of an "extremely challenging trade year".
The news comes on top of some 100 job losses earlier in the year.
Lawrence Shaw from the National Union of Journalists (NUJ) said the level of cuts was a "mistake".
"I believe the news group is still profitable... and with Trinity Mirror retrenching in some areas they [MNA] are in a good position to capitalise," Mr Shaw said.
Mr Shaw added that cuts to editorial staff could compromise the editorial quality of the newspapers, which would directly affect sales.
'Difficult decision'
Alan Harris, managing director of MNA, said he hoped many of the cuts could be made by not replacing staff who retired or left for employment elsewhere and through voluntary redundancy.
However he said compulsory redundancies could not be ruled out.
"It is very disappointing that we have had to make this very difficult decision but 2011 has been an extremely challenging trading year and 2012 is not looking any better," Mr Harris said.
The Wolverhampton-based Express & Star is the UK's biggest regional daily paper.
MNA also publishes several weekly papers across the region, including the Shrewsbury Chronicle and Telford Journal.
The company has started a 30-day formal consultation period with staff, with the cuts expected to be made from January.
Last month the company also announced its local radio stations, The Severn and The Wyre, would close at the end of the year.