Grave tenders united by 'altruistic' website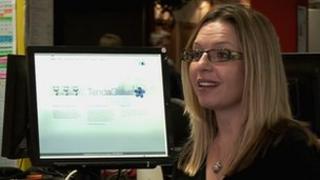 People unable to tend a relative's grave due to living a long distance away can benefit from a new website.
Tendagrave, a not-for-profit site created by Jenny Barsby-Robinson, brings together people willing to offer their time to lay flowers or tidy up.
Ms Barsby-Robinson, a Kent journalist, created the site after her grandmother died and was buried in Suffolk.
She said the idea had come to her after a friend who had offered to tend the grave emigrated to Australia.
Her grandmother is buried with her grandfather at Horringer and they worked as housekeeper and chef at Ickworth House.
"For me, it's really important that the grave looks great all year round, not just when I or other members of my family can get up there," she said.
She added: "The point of the site is that it is entirely altruistic and no money changes hand.
"You tend a grave for someone in your area and in return someone will tend a grave for you where they live."