Sixty mile walk to mark Crisis at Christmas anniversary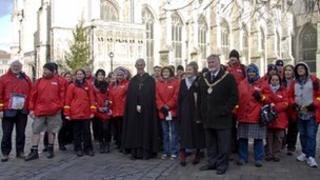 Forty walkers have started a 60-mile journey between Kent and London to raise awareness of homelessness.
The Walk to End Homelessness, which began at Canterbury Cathedral, marks the 40th anniversary of the charity Crisis at Christmas.
The charity says after years of declining trends, homelessness has been increasing since 2010.
Those walking include Crisis volunteers as well as homeless people helped by the charity.
The walkers, who aim to complete the 60 miles in four days, are relying on donated accommodation and food along their route.
The towns they will stop in include; Faversham, Chatham, Greenhithe and Greenwich.
On Wednesday, Ken Loach's film Cathy Come Home will be screened for the walkers and the public at the United Church in Faversham.
On Friday, the walkers will sing carols accompanied by children from St Joseph's Catholic Primary School at Bluewater Shopping Centre in Northfleet.
The journey will end on 10 December at the annual Crisis Carol Service at Southwark Cathedral.
Actors Prunella Scales and Timothy West will greet the walkers at the service.