Water company warns over cooking fats and oil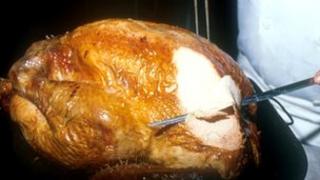 A water company has warned customers in the East Midlands about pouring hot cooking fluids down the drains.
Severn Trent Water said fats, oils and grease can build up over a period of time blocking drains and sewers.
The warning comes after the company named the worst towns in the region for causing blockages.
Normanton, in Derbyshire, and Sutton-in-Ashfield, in Nottinghamshire, were in the top five worst. Leicester has some of the cleanest sewers.
Fat traps
Drew Kirby, from Severn Trent Water, said: "A blocked sewer leads to sewer flooding it can be extremely unpleasant and stressful.
"When blockages and sewer flooding are caused by misuse of sewers and drains, they can be completely avoided."
More than £10m is spent each year cleaning about 435 miles (700km) of sewers.
The cost is passed on to customers.
Normanton had 148 blockages during 2010, with nearly two blockages per kilometre of sewer on average.
Sutton-in-Ashfield and Kirkby-in-Ashfield, in Nottinghamshire, each had 162 blockages. while Leicester had only four blockages.
Severn Trent Water appealed to customers to wipe out fats, oils and grease from pans and roasting tins with kitchen roll before putting in the bin. The company also provide fat traps to its customers.