Caterpillar announces £50m investment in UK production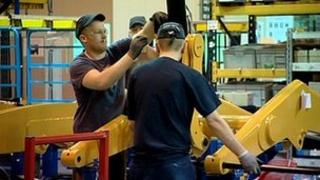 The world's largest maker of heavy equipment, Caterpillar, has announced it is to invest £50m in its two UK plants.
The investment will be shared between Leicestershire's Desford assembly plant and its facility in Stockton.
UK managing director Robert Droogleever said the money would help nearly double the company's capacity for building diggers.
He said the move would also lead to an increase the company's UK workforce.
Mr Droogleever said: "We're very bullish about the future.
"Today, we are exporting more than 90% of our products. The markets outside Europe are doing particularly well," he said.