Melton Mowbray deaths: Ex-policeman, wife and child fatally injured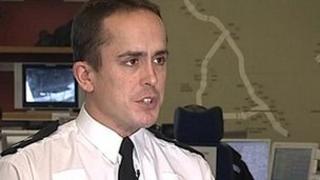 A former police inspector, his wife and one of his children have died after being found injured at a house in Leicestershire.
Two other children are in hospital in a serious but stable condition.
Police went to the property in Melton Mowbray, on Thursday after an injured 15-year-old girl raised the alarm at a nearby school.
They found Toby Day, who was sacked last week, his wife, a fatally injured child and another injured child.
Police have said they were not looking for anyone else in connection with the deaths.
The case has been referred to the Independent Police Complaints Commission.
Community 'shocked'
Malise Graham, leader of Melton Borough Council, said the authority would be offering any help it could.
"Melton is a very close community and it is shocking, made all the more so by the time of year.
"I was at the mayor's carol concert last night and as the news came through you could feel the shock. In this kind of community it affects everyone."
Gary North, who lives nearby, said: "It was a bit worrying really. For a start we didn't know how big it was.
"Apart from it being lots of police you expect them to be done in half an hour - but for them to be around for so long you really worry about what has gone on."
Ivan Stafford, chairman of the Leicestershire Police Federation, said: "It's absolutely tragic what has happened," he said. "It's been a real shock to the country and to Melton.
"It has had a huge impact on the force and it is important we have time to get to grips with what's happened.
"We are more concerned for the two remaining children. Our thoughts are with the family."
A police cordon remains in place and forensic officers have started examining the scene.
Post-mortem examinations are due to take place later.