Memorial unveiled in Peacehaven for Pte Daniel Prior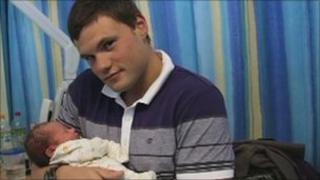 A memorial to a soldier who died after an explosion in Afghanistan is being unveiled in an East Sussex town.
Family and friends of Pte Daniel Prior, 27, will plant a tree and unveil a plaque in Greenwich Way, Peacehaven.
Pte Prior, of 2nd Battalion the Parachute Regiment, was born in Brighton and lived in Peacehaven before moving to Colchester with his wife.
He was on patrol in Helmand province when he was hit by an improvised explosive device on 17 March.
He died from his injuries in hospital in Birmingham.
Pte Prior had flown home for the birth of his son, Logan, only weeks before he was injured in the blast.