Lancashire, Bristol and Glasgow TV licence staff strike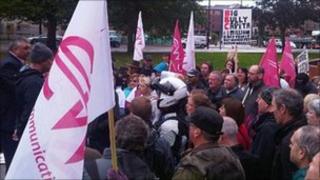 Hundreds of TV licensing workers are to stage a fresh series of strikes in the run-up to Christmas and in the new year in a long-running dispute over pay.
The workers, employed by Capita, process applications in Darwen in Lancashire, Bristol and Glasgow.
They have already taken four days of strike action since October after they rejected a 2.6% pay offer, which Capita said was "fair".
Staff will stage rolling strikes all next week and between 3-9 January.
The below inflation pay rise follows a two-year pay freeze.
'Disappointed'
Communication Workers Union (CWU) national officer Andy Furey said: "Capita is the classic Scrooge - raking in profits, paying out massive salaries and bonuses to senior executives, and then treading its low-paid staff into the floor.
"This company makes £1m profit every day and has just been awarded an eight-year extension to its BBC TV licensing contract, so it can afford a decent pay rise for staff.
"Our members are facing higher food and fuel bills, not to mention Christmas costs, so a pay offer at half the rate of inflation is simply a pay cut."
A spokesman for Capita said: "Capita is disappointed that the CWU is continuing to call on its members to take industrial action following the recent one-day strike actions and remains convinced that our offer of a minimum pay rise of 2.6% for 2010 and 2.7% for 2011 is fair.
"Fewer than one in four of the total workforce took part in the first day of action on 17 October and a decreasing number of staff has taken action on each subsequent strike day.
"On all days our contingency measures proved effective resulting in us exceeding our service levels and we are confident that the impact on our customers was minimal."