Yorkshire high streets battle to keep shops open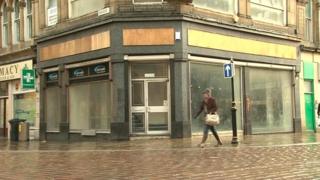 Bradford is struggling more than any other place in Yorkshire to keep shops open on its high streets, according to figures obtained by BBC News.
Almost one in five of its city centre stores is currently vacant, Bradford council said in response to a freedom of information request.
Of the 676 shops in the centre, 126 (18.6%) were empty in October.
The figure has barely changed from 18.7% in October 2010, but jumped from 13.5% in October 2009 and 13% in 2008.
This October's figures in Bradford are almost double the latest UK average of 11.2%.
The next worse figures are in Rotherham, where 22 of the town's 146 stores in prime shopping streets were closed in September, the latest data available.
That represents 15.1% of prime retail space - down from 17.8% in the previous two years.
Council leaders in both places are offering grant aid in a bid to encourage retailers to set up shop and develop their businesses.
However, Rachel Chadwick, who runs alternative clothing store Boney Fide in Bradford, said she could no longer afford to pay her business rates.
Her application to the council for a hardship grant was rejected and she said she would have to close the business by next June if no help was available.
"It is dying, this town centre. There won't be a town centre soon," she said.
"There is no incentive really to come in. We're just a town of pound shops now."
Some shoppers in the city centre agreed with her.
One told the BBC: "It's just a bit dead really, there's nothing much going on."
Another said: "We just go to Leeds, we don't bother with Bradford."
Bradford council said it was working with businesses to tackle the problem.
Labour councillor David Green, whose portfolio includes regeneration and the economy, said: "Some of the figures that have been produced don't really reflect Bradford city centre.
"The figures actually show an improvement on the number of empty shops over the last couple of months, but that doesn't really solve the problem.
"I accept that we have got to do a great deal more work."
'On the way up'
In Rotherham, Paul Woodcock, the council's director of planning and regeneration, said: "Our vacant shops are going down, footfall is up, we have got more people visiting the town and since 2010 we have had over 50 new businesses coming into Rotherham town centre.
"We are very much seeing signs of improvement. There is still a way to go, but we are certainly on the way up."
Meanwhile, the North Yorkshire shopping centres of tourist hotspot York and conference spa town Harrogate have far fewer empty premises and have seen recent improvements in occupancy rates.
In Harrogate, 39 of the town centre's 549 shops, or 7.1%, were vacant in September this year, compared to 54 of 565 shops (9.6%) in September 2010 and 62 of 575 shops (10.8%) in September 2009.
In York, 50 of the city centre's 677 shops, or 7.3%, were empty in October 2011 compared to 57 (8.4%) in October 2010, 52 (7.7%) in October 2009 and 59 (8.7%) in 2008.