Ex-marines attempt Atlantic row for The Prostate Cancer Charity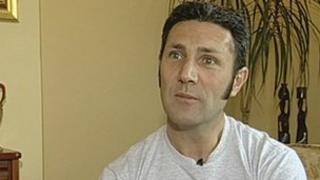 A firefighter from Kent whose bid to row the Atlantic Ocean ended when his boat was destroyed is making a second attempt with three friends.
Aldo Diana had to abandon his crossing when his 24ft wooden boat collided with a cargo ship in 2009.
But Mr Diana, who lives in Edenbridge, said he had unfinished business.
He is part of a team of four former Royal Marines taking part in the crossing from the Canary Islands to the Caribbean.
Boat smashed
Also taking part are Ken Maynard, of Yeovil in Somerset; Graham Witham, of Hemel Hempstead in Hertfordshire and Jason Howard-Ady, of Weybridge in Surrey.
Mr Diana's partner, Dawn, said Aldo was an "action-man" who could not resist a challenge.
The team set off from Puerto Morgan in Gran Canaria on 14 December and hope to complete the 2,500 mile (4,023 kilometre) journey towards the start of February.
Mr Diana's last attempt with Mr Maynard took 18 months to plan.
He had built the wooden vessel himself, which was named Rita, after his mother.
But about 365 miles into the crossing, the boat smashed against a cargo ship.
The pair were rescued by the crew but were unable to complete the trip from Gran Canaria to Antigua.
However, they were still able to raise £12,000 for Raft - a charity for the treatment of burns victims.
This year, the team is aiming to raise more than £75,000 for The Prostate Cancer Charity.