North East young people fighting unemployment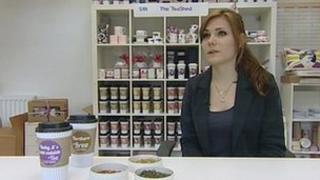 Two North East young people are taking different approaches in the face of increasing youth unemployment.
Unemployment among 16 to 24-year-olds rose to 1.027 million, the highest since records began in 1992, the Office for National Statistics said, beating the previous record set only last month.
In the North East, 29,400 people aged 18 to 24 claimed jobseekers' allowance in November, a drop of 200 from October.
Jules Quinn, 23, from Northumberland, decided to set up her own business while Shaun Hall, 20, from Middlesbrough, is volunteering to try to enhance his employability.
In her bright and airy office, Ms Quinn is unpacking boxes of tea shipped from Sri Lanka.
Twenty pyramid-shaped, nylon tea bags of differing blends are then stuffed into biodegradable beakers, each then branded and sold across the country.
Free advice
Her Stocksfield-based business, The Teashed, is just six months old but on course to turn over £80,000 in its first year - £50,000 of that should come in as profit.
She started the business after graduating from Northumbria University and refusing to countenance the prospect of being unemployed.
It is, she says, an option for many of her contemporaries currently without work but one that many never contemplate.
"I would definitely say give it a go. You don't really need a start-up investment", she said.
"You could just buy or sell, or perhaps get a market stall. There's always a way. If you really want to do it, you'll find a way."
And there is, adds Ms Quinn, help out there for young people who want to start their own business. And it is often free.
As a graduate of Northumbria University, she can tap into its Graduate Enterprise Scheme for the next five years.
It offers free advice from lawyers, accountants and public relations practitioners.
It even lets out free office accommodation - Ms Quinn is about to move into an office on Newcastle's quayside.
Regular job
Working for yourself, she concedes, is not for everyone, but, given the latest rise in youth unemployment - up from 1.02 million to 1.03 million in the 16 to 24 age range - it is a real option to consider.
Shaun Hall said he did not want to set up his own business, he just wanted a regular job with a regular income.
But since leaving school at 16 four years ago he has had just more than one month of work, and that was temporary Christmas work in a greetings card shop.
He is though doing something that should enhance his employability - volunteer work in a furniture exchange shop in Middlesbrough.
It is something that Lord Jones, the former trade minister and one-time head of the employers organisation the CBI, last month stressed as vital to get young people into the habit of working.
"It is really important to get into the workplace, even if it is unpaid voluntary work", he said.
Mr Hall said he agreed.
"Since I worked last Christmas I've got a bit of experience so that should, because most shops are looking for experience, be taken into consideration", he said.
"So, hopefully, I'll have a bit of luck every time I apply for a job in the shops."
John Trevillion, the chief officer of FRADE, the organisation which runs the furniture exchange, said that even if Mr Hall does not find a job soon, the volunteering experience will have been invaluable to him.
He said: "He learns to get up on a daily basis and be on time. It gives him the ability to work with a team of other workers who are in a similar situation.
"It gives him the practical experience of working in a shop. Any help that people can get in developing their experiences is all to the advantage."
Mr Hall said volunteering had helped to keep him upbeat when applications are rejected, or not even acknowledged. And it has shown him what real work can be like.
He said: "At least I can say I tried my best. That's all I can do, try my best."