Baby colobus monkey born at Drusillas Park in Alfriston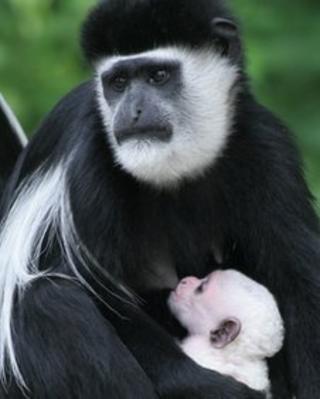 A species of monkey that is part of a European breeding programme has successfully bred at an East Sussex wildlife park for the first time.
The colobus monkey, which is covered in woolly white fur when first born, has been welcomed by zookeepers at Drusillas Park in Alfriston.
The family of black and white monkeys was re-homed earlier this year from Port Lympne Wild Animal Park in Kent.
There are about 220 colobus monkeys in zoos around the world.
A spokeswoman for the park said: "The sheepish new arrival is being closely guarded by his mother but will become increasingly confident over the coming weeks.
"Hopefully, the family tree will continue to grow at the zoo for many years to come."