New figures show the Midlands' value to UK economy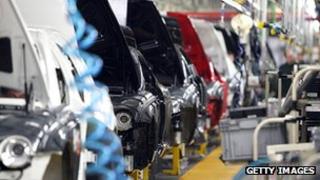 "We must rebalance the economy!"
It's the government's mantra for closing the gap between north and south.
And it is used for reassessing the relationship between the service sector and manufacturing industry as the main engine of growth; and, yes, for redistributing jobs from the public to the private sector.
Two separate sets of figures show just how far we have to go.
The Gross Value Added (or GVA) analysis just published by the Office for National Statistics shows that the West Midlands economy is worth 7.3% of the UK economy.
This compares with 21.5% for London at the top and 3.2% for North East England at the bottom.
Industrial heartland?
The West Midlands is ranked sixth out of nine in the league table of English regions.
Quite a come down for an area that was seen until recently as the industrial powerhouse of Britain.
Less than 20 years ago it still accounted for almost a quarter of all UK manufactured exports.
It is also, perhaps, a reality check for government ministers who see Midlands manufacturing as an escape route out of our economic woes.
At a meeting of local business leaders this week, one after another they told me there were no "quick fixes".
It would take years for industry to step outside the comfort zone and build up new markets in the far-flung developing economies of the BRIC countries: Brazil, Russia, India and China.
Richard Butler, regional director of the CBI, the employers' organisation, told me: "The UK and Euro zone are flat. So we will have to grow new markets in those long-haul markets."
It will be a long haul in terms of time as well as distance.
Jobs gap
Everyone knows Jaguar Land Rover and JCB diggers are profiting from the growth in exports to India and China.
But a senior partner in a leading accountancy firm told me by far our biggest export earner in China is not Jaguars, Land Rovers or JCBs - it is scrap metal!
And another set of ONS figures point us towards what will be one of the defining issues in politics for years to come.
This set of numbers showed that the private sector had created a very creditable 26,300 jobs in the year to September.
The problem is that public sector job cuts had totalled 37,700 over the same period.
That's proof, some will say, of how over-dependent we had become on the 'bloated' public sector during the Labour years.
But it also calls into question the government's declared objective of getting the private sector to fill the gap left by public sector job losses.
This, for ministers, is perhaps their most challenging rebalancing act of all.
Only by achieving it, can they answer Labour charges that George Osborne's deficit reduction programme goes "too far, too fast" and that his economic strategy "is just not working".