Pte Matt Brooks fight death in Portsmouth 'not unlawful'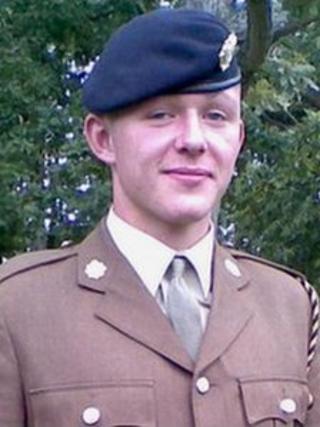 A coroner has ruled there is not enough evidence to determine if a soldier who died after being punched in a fight in Portsmouth was unlawfully killed.
Pte Matt Brooks, from Trowbridge, Wiltshire, suffered a fractured skull and died five days after the incident in a car park near Yates's bar in 2010.
Dean Aldcroft, 22, of Warwick Crescent, Portsmouth, was charged with manslaughter but the case was dropped.
Southampton coroner Keith Wiseman recorded an open verdict.
The inquest heard that Mr Aldcroft punched the soldier in self-defence on 13 May last year.
In police interviews read out, Mr Aldcroft said he had an argument on the dance floor with Pte Brooks and that the soldier then head-butted him.
He said he did not hit him back, but his friend did punch Pte Brooks and all three were thrown out.
'Betrayed by system'
Mr Wiseman criticised the door staff for evicting Pte Brooks and Mr Aldcroft out of the same door, meaning the fight could easily continue outside the venue.
He said that CCTV footage appeared to show Pte Brooks and his friends meeting up with Mr Aldcroft and his friends in the car park, apparently for a fight.
He told the hearing that the evidence given to the inquest suggested Pte Brooks and Mr Aldcroft "squared up" to each other before the fatal blow was struck.
The coroner said that he was only able to record an open verdict as there was no CCTV footage or reliable evidence for the moment when Pte Brooks was hit.
He told the inquest: "The crucial few seconds of critical evidence as to what occurred is missing and has obviously led to enormous frustration and indeed anger on the part of the family."
Mr Wiseman said that he sympathised with Pte Brooks' family's anger at the decision of the Crown Prosecution Service (CPS) not to bring the case to court.
In a statement, released after the CPS announced that Mr Aldcroft would not be prosecuted, Pte Brooks' parents said they felt the "victim's rights" were overlooked by the decision
They said: "In our UK law, the rights and privileges afforded to an offender outweigh that of the victim and police.
"We feel betrayed by the UK justice system."