Buyer sought for nose-diving Durham Tees Valley Airport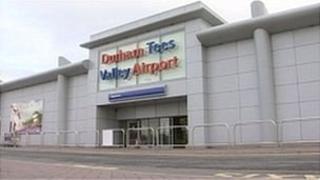 Airports are supposed to be places of excitement and possibility as travellers bustle in and out of the terminal.
But frankly Durham Tees Valley Airport feels full of anything but possibility.
When I arrived to film there at 3pm, it was almost desolate inside, with no sign of a passenger.
The newsagents and bar were closed, the café deserted, the check-in desks empty.
The airport travel agency was optimistically open, but had no customers, and I'm guessing that most of the brochures were not offering flights from Durham Tees Valley.
It did liven up when around 40 people turned up for a flight to Amsterdam. Most were foreign students heading home for Christmas.
Many were grumbling about the £6 facility fee all passengers have to pay for the privilege of using the airport.
But once they had passed through to the departure lounge, the sense of desolation soon returned.
Declining passengers
It was a clear illustration of why the company that runs the airport has put its 75% stake up for sale.
In its official statementPeel Airports said it had made the decision because: "(Durham Tees Valley) no longer fits within the company's strategic plans for its portfolio of airports."
To translate, that means it just has too few passengers.
Most airports have seen a drop in traffic, but for Durham Tees Valley it's been more of a nose-dive than a controlled descent.
In 2006, more than 900,000 passengers passed through its doors. This year that will have come down to 200,000.
Rising taxes
There are a whole host of factors you can blame.
The problems in the North East economy will have depressed demand, as will have rising aviation taxes.
Airlines have also increasingly deserted Durham Tees Valley for the safety of bigger airports.
Some have even pinned the decline on the decision to change the airport's name (it was Teesside until 2004).
And then of course there is that facility fee.
But whatever the cause, this is an airport struggling to survive.
Yet Peel Airports does believe it can be sold as a going concern.
Director Steve Gill said: "Already we are talking to a few interested parties who have expressed a keen interest in looking at the option of acquiring the business.
"We feel there will be a future owner who will have the capability to turn the airport round and take it back to where it should be."
But is that realistic at a time of economic turbulence and rising air passenger duty?
Alternative uses
Peel argues that despite those difficulties, projections still suggest more people will be travelling by air in a decade's time.
It just depends whether a company will be prepared to tough it out in the short to medium term.
The danger is that no airport operator comes forward and alternative uses have to be found.
That's certainly the concern of Stockton South Conservative MP James Wharton.
He said: "We wouldn't want to see the airport become an industrial or housing estate, not just because of the effect on the local economy, but also because of the potential impact on people living nearby who wouldn't want to see more traffic and further housing out of this development."
That was echoed by Sedgefield Labour MP Phil Wilson.
He said: "I want to see the airport flourish in the future and I do not want to see the land to be sold off for a housing development, so Peel's confirmation that it wants to sell it as a going concern is welcome.
"I have also asked the Transport Minister to meet with me and a cross-party group of MPs from the area to discuss the importance of Peel's announcement and what else can be done to secure the future of the airport."
Its future was also raised at Prime Minister's Questions by Darlington MP Jenny Chapman.
David Cameron told her that the big issue for the airport was investment and not ownership.
The question is, will Durham Tees Valley find an owner who wants to invest, or might it have had its moment?
One thing's for sure, you only need to visit there on a winter's afternoon to know that something has to change if it is to survive.