Rail summit pushes for improvements across East Anglia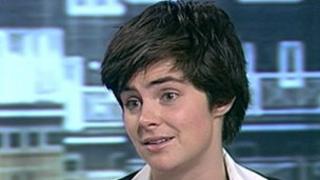 You couldn't make it up: a summit to discuss ways of improving rail services in the eastern region had to start late because the train carrying the delegation from Norfolk was delayed by a signal failure.
The meeting had been called by Norfolk MP, Chloe Smith, along with Conservative colleague, Ben Gummer, who represents Ipswich.
Anyone with an interest in the region's rail services was invited.
For the first time MPs from Norfolk, Suffolk, Essex and Cambridgeshire, local councillors, commuter groups, business leaders, train operators, network rail and officials from the Department for Transport all sat round the same table with one aim: how to improve services across East Anglia.
A lot of people wanted to let off steam and most of it was directed at network rail over the state of the intercity line from Liverpool Street to Norwich.
'Shabby' trains
"Every day something is going wrong," fumed Graham Plant, the cabinet member on Norfolk County Council responsible for transport, who was one of the victims of that morning's signal failure.
"The quality of kit on that line is unacceptable," exploded Guy McGregor of Suffolk County Council.
"We're travelling in trains which are shabby compared to the rest of the country," complained Mark Leslie, from an Essex commuters' organisation.
"The people of Norfolk, Suffolk and Essex feel they're getting a third or fourth class service," fulminated Vicky Ford, one of the region's Euro MPs.
Ben Gummer told how he felt embarrassed meeting members of the cabinet when they all went to Ipswich last week because they arrived "on a grotty train".
Lack of performance
Norman Lamb (North Norfolk) laid into network rail over delays to the electrification programme which will not be completed by the Olympics, as had been originally promised.
"Why are you not performing?" he demanded.
Network Rail was prepared to hold its hands up.
Richard Eccles, one of their directors, apologised for that morning's signalling fault and admitted that when it came to the main intercity line: "We are disappointed with our performance maintaining the assets on this route."
He also confirmed what everyone in the room suspected, that when it came to infrastructure investment, the London to Norwich line "had not had the success in attracting funding which other lines in the country have".
He couldn't say why but wondered if the lack of a coordinated campaign may have been a reason.
That's what this summit was about; presenting a united front and pushing for improvements not just to the Intercity line but also to the Fenline, which runs from King's Lynn to London, the route from Norwich to Cambridge and Felixstowe to Nuneaton.
Future vision
The meeting drew up a vision for the future of our railways underlining the need for reliability, more investment in track and stations and better rolling stock.
Doing it now is important. The operator franchises are coming up for renewal and Network Rail is drawing up a new list of spending priorities.
The meeting was told that the draft list didn't include anything significant for the east. That is something the summit hopes to change.
There were no immediate offers of money although the Department for Transport agreed with the aspiration for half hourly services between King's Lynn and Cambridge and Norwich and Cambridge.
It has now agreed to incorporate that desire into the new franchises.
"This meeting has been incredibly worthwhile," said Chloe Smith, afterwards.
"What we achieved today was real unity across four counties about what we need to do to improve services for passengers and encourage business and growth in our region."
The MPs point out that the government is looking for infrastructure projects which will boost growth.
That has resulted in plans to improve both the A11 and A14 - and it is why the region has received millions of pounds to develop broadband.
They hope that by campaigning as one united body, better railways will be their next big achievement.