Ambulance service takes emergency call every 30 seconds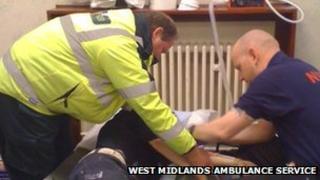 West Midlands Ambulance Service said it got a 999 call every 30 seconds on one of the year's busiest nights.
Between 18:00 GMT on Friday and 04:00 GMT on Saturday they took 1,166 emergency calls.
A temporary minor injuries unit (TMIU) in Broad Street, Birmingham, treated 22 patients overnight.
Senior paramedic Tracey Morrell said: "Unfortunately, quite a few people who we treated had simply consumed too much alcohol and were subsequently unwell."
A spokesman said the TMIU freed up ambulances to deal with "serious and life-threatening cases elsewhere".
It will be open for four nights over the Christmas and new year period.
West Midlands Ambulance Service spokesman John Hawker said: "Unfortunately, a number of people find themselves being treated by paramedics and then in hospital with serious injuries or illness after a night out."