Cable thieves may have posed as rail staff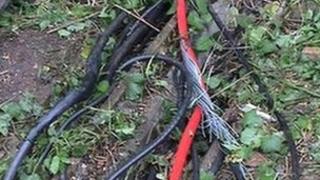 A series of cable thefts in Gloucestershire and Worcestershire may have been carried out by thieves posing as rail staff, police have said.
The thefts occurred in the Chipping Campden, Stow-on-the-Wold, Honeybourne and Evesham areas of Gloucestershire and Worcestershire.
A British Transport Police (BTP) spokesman said the thieves had primarily targeted signalling cable.
He added they had caused considerable disruption to the network.
Specialised knowledge
He said that in addition to being expensive to replace, the cabling had been left in a dangerous condition and could have caused injury to others.
Det Ch Insp John Pyke said: "They clearly have some specialised knowledge and it would take them time to carry out the thefts.
"That makes us think that they may be posing as rail engineers so as not to arouse suspicion."
He said they believe the gang is responsible for at least four incidents: at Chipping Campden on 15 November, at Eckington on 3 December, at Honeybourne on 8 December and at Evesham on 14 December.
"They choose very rural locations and must be using one or more vehicles to take the cable away," he said.
Mr Pyke said anyone who sees people working on the railway can contact BTP who can check if they are genuine engineers.