Rain helps salmon and trout migrate in south west rivers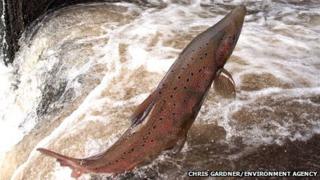 Recent rainfall is helping salmon and sea trout migrate along rivers in the south west after one of the driest years, the Environment Agency said.
"Exceptionally low" water levels have made it difficult for the fish to migrate upstream and spawn, it added.
Their breeding success is being monitored at rivers in Devon and Cornwall, including along the Fowey, Camel, Tamar and Exe.
Both species are indicators of good water quality, the agency added.
Simon Toms, from the agency, said: "Conditions have become difficult for migratory fish because it has been so dry.
"The recent rain has arrived just in time and given the fish a temporary reprieve."
Weir blown up
When the adults arrive at the spawning grounds, the female salmon lay their eggs in riverbed gravel where they are immediately fertilised by a male fish.
Mr Tom said: "Salmon and sea trout are important species in the South West and are indicators of good water quality.
"They help us monitor the health of our rivers and make a very welcome and valuable contribution to the local economy."
Chris Gardner, Environment Agency fisheries officer, photographed migrating salmon in Hampshire and said "it was a spectacular sight".
In October, a weir on Dartmoor was blown up in a series of explosions to help salmon and sea trout migrate more easily.