'Joyriders' kill pregnant sheep in Kent field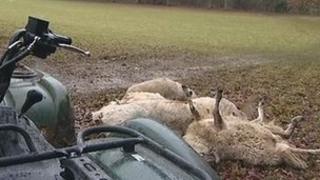 A farmer has said he is devastated by the deaths of 15 sheep, some of them heavily pregnant, after they were hit by a vehicle in a Kent field.
Chris Sargent found eight animals' bodies strewn across the field in Wrotham on Monday morning.
Seven more had to be shot after they had lain on the ground in pain all night, some with broken legs.
"It is unbelievable. Totally disgraceful," he said. "I wouldn't have a clue who did it. Joyriders, maybe."
Mr Sargent, who runs Eastlands Farm in Catsfield, East Sussex, rents the field in Wrotham Hill, where he keeps about 80 sheep, from the St Clere estate.
He said there were tracks all over the ground when he arrived.
'Deliberately run over'
He added: "They have been out here for some time. It is not just a two-minute attack."
Kent Police said it was believed the sheep were deliberately run over by a four-wheel drive vehicle.
Some had missing limbs and those that were still alive were in great distress.
The gate to the field had been opened and a black moulded bumper bar from a Mark I Land Rover Discovery was found.
Police have appealed to anyone with information to come forward.
Insp Adrian Allen said: "This is a terrible crime that has resulted in great pain, distress and suffering and it is difficult to imagine who could do such a callous thing.
"We are keen to establish a motive for this attack as quickly as possible."