Paul Cleeland's murder case 'should be reviewed'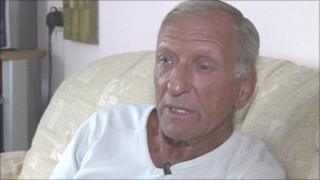 A Kent MP has called for an independent review into the case of a man who served 25 years in jail for a gangland shooting he claims he did not commit.
Paul Cleeland, 67, who now lives in Folkestone, Kent, was jailed in 1973 for shooting gangland leader Terry Clarke in Stevenage, Hertfordshire.
Conservative MP Damian Collins has questioned the reliability of forensic evidence presented at the trial.
He is calling for an independent review and is leading a debate in the Commons.
Mr Clarke, a friend of Cleeland, was shot twice as he got out of his car after returning from a Hertfordshire bar on Guy Fawkes night (5 November) in 1972.
There was no eyewitness evidence against him but forensic evidence suggested he may have handled the murder weapon.
'Wheels of justice'
Mr Collins, the MP for Folkestone and Hythe, said: "The test that was used then... what it really detects is the presence of lead. It can't necessarily detect whether a particular firearm was used or not.
"What I want the government to do is hold an independent review of all of the papers surrounding Paul Cleeland's case.
"I hope that by giving him support the wheels of justice can turn and he can get a proper review of his case and a proper decision."
At Cleeland's first trial in April 1973 the jury could not reach a verdict.
But a retrial later that year saw him convicted of murder and sentenced to life in jail, with a minimum tariff of 20 years.
Cleeland was freed in 1998, five years after the end of his tariff.
He says techniques used in testing shotgun residue could show he had nothing to do with the murder.
But three Appeal Court judges turned down his request to reopen his case in 2002.