Paralympian given lottery funds for The Bike Experience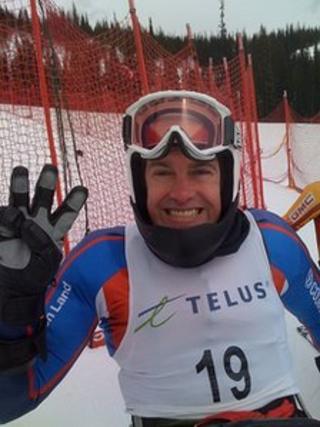 A paralympic skier from Bath who runs a charity to help paralysed motorcyclists has been awarded £10,000 by the Big Lottery Fund.
Talan Skeels-Piggins, 41, was paralysed from the chest down himself after a motorbike accident in 2003.
He set up The Bike Experience, a charity based at the Castle Combe Circuit, in Wiltshire, in April.
The charity helps people who have been seriously injured to learn to ride again through special training events.
"Learning to ride again changes people's lives," said Mr Skeels-Piggins, who shattered his spine and broke his neck during his accident.
"It shows them that what they thought was impossible is possible. It is the realisation of a dream for them.
"When you are paralysed, that wheelchair becomes a prison you cannot escape from but biking gives you total fulfilment and exhilaration.
"It allows people to grow in confidence and improves their strength and balance. It is good for physical as well as mental well-being."
'Inspiring individual'
Mr Skeels-Piggins is also a former Royal Navy fighter controller.
After his injury, he was retained in the armed forces and serves as a lieutenant in the Royal Naval Reserves.
He started skiing at the age of nine and was selected to compete for the Great Britain paralympic team just 14 months after sustaining his injuries.
He won the gold medal in the Super-G skiing event in the European Cup last year and competed in the 2010 Winter Paralympics.
"Talan Skeels-Piggins is a truly inspiring individual," said Mark Cotton, from the Big Lottery Fund in the South West.
"I am delighted that [the] funding will enable him to continue running his charity which will give other disabled individuals the chance to experience the sense of freedom and joy that racetrack motorcycling can bring."