Farnham Christmas lights bring Olympic torch honour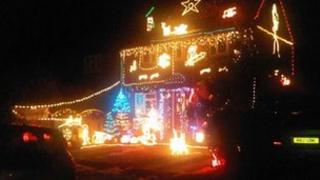 A Surrey woman who has been lighting up her house for charity for more than 20 years has been chosen as a 2012 Olympic torchbearer.
Gail Whattingham, of Greenfield Road, Farnham was nominated as a torchbearer by her son for her services to charity.
"We do various things to raise money during the year but the Christmas lights are my favourite," she said.
"We have been building them up over the last 23 years and now we have got about 80,000 bulbs."
The roof, front and side of the semi-detached house is decorated with singing Santas, snowmen and a talking Christmas tree.
'Very moving'
This year Ms Whattingham is collecting for the Naomi and Jacksplace hospices for children and young people in Winchester, Hampshire.
The charity provides care to families across Berkshire, Dorset, Hampshire, Isle of Wight, Surrey, West Sussex and Wiltshire.
"Everything we raise will go to the hospice," said Ms Whattingham.
"We see people who came to see the lights when they were children coming back and bringing their own children and grandchildren.
"It is very moving."
Ms Whattingham has been told she will be carrying the Olympic torch somewhere in the Portsmouth area on 16 July next year.
"It will be an honour to be there," she said.