Jerwood Gallery to open in March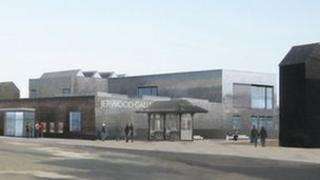 A new art gallery, seen as a major part of the regeneration of an East Sussex seaside town, is to open in March.
The £4m Jerwood Gallery is part of the £9m redevelopment of the Stade area of Hastings old town.
The gallery will display 20th and 21st Century paintings held by the Jerwood Foundation, many of which have not previously been seen by the public.
An exhibition of works of Kent-based artist Rose Wylie will open the new gallery in 2012.
Seaside light
A Jerwood Foundation spokesman said: "It will establish Hastings in the 'string of pearls' of prestigious cultural attractions along the south coast, which includes the Turner Contemporary at Margate, the Folkestone Triennial, the Towner in Eastbourne, De la Warr Pavilion at Bexhill and Pallant House at Chichester."
The building, on the edge of the working fishing beach, is in the same area as Hastings' net shops.
The outside of the building is clad in black ceramic tiles, hand glazed in Kent, which are designed to reflect the seaside light.
There is a range of gallery spaces in the building.