Injured student takes first steps to collect degree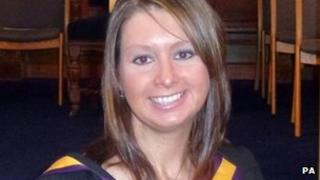 A student who was told she would never walk or talk again has taken her first steps unaided to collect her degree from the University of Manchester.
Lauren Thompson, from Lytham St Annes in Lancashire, nearly died when she was in a serious crash.
She suffered injuries to her brain, spent a month in a coma, a year in a wheelchair and has mobility problems.
The 25-year-old had to abandon her studies at the beginning of her third year in 2006 but returned last year.
'Absolute inspiration'
Miss Thompson walked a few steps unaided for the first time to pick up her degree certificate, marking her 2:1 in criminology, on Friday.
"I was very emotional when I received the degree as not very long ago I thought it was something which was beyond me," she said.
She studied law books as part of her rehabilitation programme but could only read 15 pages at a time, without a break.
"It was hard work and because everything takes so much longer for me to do I didn't really have that much time for a social life," she said.
The university provided Miss Thompson with a note-taker for lectures and seminars, a library assistant and ergonomic computer equipment.
She took her exams in the disability support office so she could have rest breaks.
'Great things'
Tutor Dr Jon Spencer said: "Lauren is an absolute inspiration to any disabled - or for that matter non-disabled - person. She just doesn't know when to give up.
"Her degree is an amazing achievement and reflects her immense gifts."
University disability adviser Sam Ward added: "She's a perfect example of how, with the right support, even someone with severe disabilities can achieve great things.
"Lauren is fantastic and an example to us all."