Sixteen million illegal cigarettes seized in Rochdale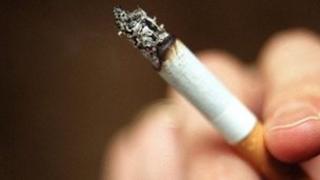 More than 16 million illegal cigarettes have been seized by customs officials in Greater Manchester.
The cigarettes, worth an estimated £3.8m, were discovered at an industrial unit in Castleton, Rochdale, on Monday.
They had been imported as fruit and hidden among oranges and kiwis, an HM Revenue and Customs spokesman said.
Two men from Greater Manchester aged 49 and 35 and a 43-year-old man from Wales have been arrested on suspicion of excise fraud and bailed until March.
Three vehicles were also seized, as well an estimated £75,000 in cash.
HMRC assistant director Mike O'Grady said: "Tobacco smuggling on this scale isn't about cheap cigarettes; it is organised fraud on a global scale, encouraging and supporting criminality within our communities, and robbing taxpayers of millions each year in unpaid duty and VAT."
He said the activity had a "devastating impact on legitimate traders having to compete against crime on this scale".
The seized cigarettes will be recycled as fuel pellets and used to fuel the national electricity grid, HMRC said.