'Annie' dog retires from musical after 10 years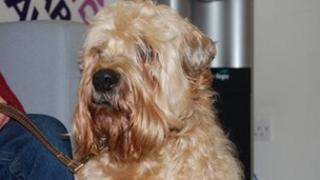 A terrier has stepped down from a lead role - after spending more than 10 years as the dog in the musical Annie.
Danny has played the part of faithful pet Sandy in the touring production of the show and has notched up 1,400 performances.
His appearance at the Cambridge Corn Exchange on New Year's Eve was his final one.
He is now set for a peaceful retirement at his Shropshire home.
Owner and trainer Rita Mansell said she had been told Danny is the holder of the world record for "the most performances by a dog in a theatrical production".
Now almost 11, Danny, a soft-coated wheaten terrier, has been part of the show since he was only seven months old.
Mrs Mansell's previous dog had played the part of Sandy, but when he died, the producers asked if her new dog could take over.
"I told them he was only a puppy and was an absolute nut case, but they gave him an audition anyway," she said.
"He did everything right and was very quick to learn.
"He skidded on to the stage and sat straight down by Annie, which was exactly what they wanted him to do."
Happy retirement
Mrs Mansell said Danny had never missed a cue, nor had there been any "little accidents" while he was on stage.
"One thing he liked to do was sometimes sit up and have a bit of a scratch of his neck when he should have been lying still. The audience loved that - but we didn't," she said.
Since his stage career took off, Danny has appeared in every show, travelling with Mrs Mansell to theatres across the UK, and staying in "dog-friendly digs" with her.
"It can be quite stressful touring with a dog, but it is a wonderful lifestyle meeting so many friendly people," Mrs Mansell said.
"Danny absolutely loves it, though. The show doesn't tour all year so he gets plenty of time off to do ordinary doggy things, when we're back home in Oakengates."
Although the final Annie show marked Danny's retirement from professional show business, Mrs Mansell said she had already been approached by a number of amateur productions, and so he would play the role again.
"He would really miss the reactions of the audience when he's on stage," she said.
"He loves the 'ahhhs' he hears when he first walks on. If he doesn't get them he wonders if he's done something wrong."