RNLI lifeboat crews hope for quiet festive season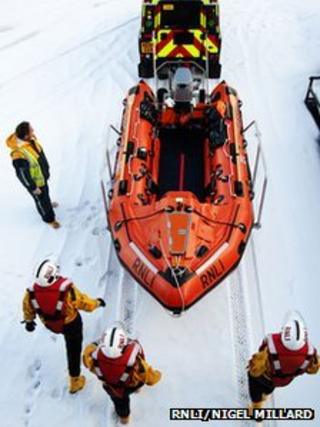 RNLI lifeboat volunteers in the north of England will be on standby to abandon festivities if needed.
Dozens of them will be carrying pagers in anticipation of a possible call-out.
Between 23 December 2010 and New Year's Day 2011, when there were freezing conditions and thick snow, there were nine call-outs in the region.
The charity has urged people planning time at the coast to take basic safety precautions, such as checking the weather and tide times.
Last year crews from Cullercoats, Sunderland, Redcar, Filey, Bridlington, Cleethorpes and New Brighton were all in action.
In addition, lifeguards on Crosby beach were on duty every single day.
RNLI operations director Michael Vlasto said: "Christmas is typically a time of fun, rest and relaxation with family and friends.
"The fact that our volunteer lifeboat crew members are willing to carry a pager all over the festive season and launch the lifeboats to rescue those in danger at sea, in all conditions and at any time of day or night, is testament to their absolute commitment.
"Of course, it is not just the lifeboat crews we should remember, but also their families and friends, who too are prepared for Christmas to be disturbed by the call of the pager, and our dedicated fundraisers and supporters, whose work is vital in ensuring we, as a charity, have the funds we need to keep saving lives at sea."