Marathon year for former soldier Karl Hinett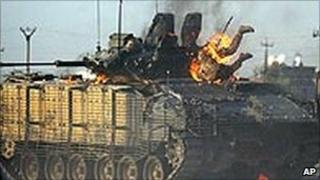 A former soldier who survived a petrol bomb attack in Iraq has raised about £13,000 by running more than 50 marathons this year.
Ex-Staffordshire Regiment soldier Pte Karl Hinett, 24, of Tipton, West Midlands, has been preparing to run in Liverpool on New Year's Eve.
He has raised money for Queen Elizabeth Hospital Birmingham after he was treated at the old Selly Oak hospital.
Mr Hinett spent 11 days in a coma following the attack in Basra in 2005.
The Liver Bird marathon on New Year's Eve will be his 52nd marathon - meeting his target for 2011.
He now hopes to reach 100 in the next year.
'Pretty daunting'
Mr Hinett said he wanted to do something which had "the same level of commitment" which doctors and nurses had shown towards him.
He added: "I wouldn't start a race and actively try and run my best every week.
"Ironically my times did progressively get better throughout the year, but recovery was definitely a major key to making sure the challenge was successful."
The former soldier, who had surgery over five years, had been taking part in a rescue mission to free two British soldiers who were being held in Basra when he came under attack.
He left the army in 2008 to retrain as a gym instructor.
Speaking about the marathons challenge, Mr Hinett said: "It was pretty daunting at first setting off. I thought, hang on, have I made a mistake here? Have I bitten off a little more than I can chew?
"But I just do a week at a time."