Ice Queen and Norse parade welcome Newcastle new year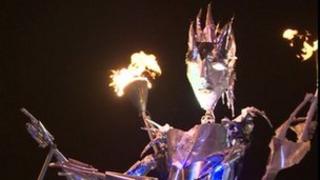 Thousands of revellers gathered in Newcastle city centre to welcome in the new year.
An Ice Queen led the Newcastle and Gateshead winter carnival which started with performances around the Monument in the afternoon.
It was followed by a parade, inspired by Nordic mythology, along Northumberland Street to the civic centre.
The climax of the evening came with a spectacular firework display.
More than 250 people volunteered to join performers for the parade.
Liz Pugh, producer at outdoor arts specialist Walk the Plank, helped organise the carnival, which is in its third year.
Speaking before the event, she said: "Anyone who came two years ago will have seen the dancing and colour and costumes inspired by the carnival cities of Rio and South America.
"This year we are taking the carnival in a different direction inspired by Norse mythology.
"We have got lots of people all fired up to put on their costumes and brave the cold.
"These will include a giant serpent, Thor and his black elves and Odin's wolves which will be wandering the streets."